7 DAY FREE TRIAL
Train with us today!
BATTLING WITH BALANCE
March 8, 2021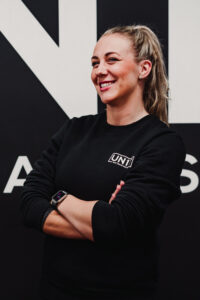 Most coaches in the fitness industry will tell you about their lifelong fitness background, or how they played professional sports of some kind. My path into the world of health and fitness didn't pan out quite like that. I was always encouraged to play sports and stay active as a kid, but as I grew into my late teens, I had other priorities. I was overweight and led a sedentary lifestyle.
Fast forward a few years, I came to my senses and started to try and take care of myself. I lost around 12kg through endless hours of cardio and a strict paleo diet. Resistance training was non-existent though. "I don't want to get bulky!" I told myself. I hadn't heard of My Fitness Pal and had no understanding of the value of a calorie. When I stopped losing weight, I started to look into bodybuilding and this 'healthy lifestyle' grew into an unhealthy obsession.
I would cry if I miscounted my calories or ate too much, rest days became non-existent and I hated my body more than ever. I had no energy, no social life, and for what? Then I was diagnosed with Hypothyroidism meaning I would find it incredibly hard to lose weight and my energy was at an all-time low.
I had no idea where to go from there.
One day my sister phoned me to tell me she had started training at a functional fitness gym "Steph you'll love it, my body has changed so much, it's all about what you achieve in the workout, it's great fun". The idea was alien to me as I had always trained for aesthetics – not performance.
Even though I was a qualified personal trainer at this point, walking into a class environment for the first time was intimidating. I had no idea what to expect, would I be fit enough? But everyone in the gym was so friendly and welcoming. I had never experienced that stimulus during a workout before and we all worked through the class as a team. There was no judgment and everyone was treated as an equal. I fell in love with the concept and never looked back.
I moved to the Middle East in 2015 and dedicated my fitness career to the 'Functional Fitness' concept. I focused on performance-based training and developed a balanced lifestyle. I trained between 4-6 times a week and ate a sensible balanced diet. 80% optimal foods and 20% still within my calorie allowance but less optimal foods!
In September 2020, I relocated to London to join the UN1T team. I came across UN1T earlier that year and I loved the concept. It was a breath of fresh air to find a brand that believes in balance. They don't promote crash diets or running yourself into the ground. They have science-backed, performance-based training that improves your body composition, makes you stronger and fitter whilst improving your quality of life. UN1T wants to build bodies, not break them. I've met a community of people who share the same values and support each other regardless of their background, goal, or how fast they progress. I can't wait to welcome our members to the Holborn studio, whether it's their first time in a gym or their hundredth!
The timeline from day one in the gym to day one of finding a healthy balance was six years. Six years to learn to be proud of what my body can do rather than punish or criticise myself for what it can't. I'm not as lean as I once was, but I am healthier mentally and physically and can perform to a higher standard than I ever could before.
Steph
GM – UN1T Holborn
7 DAY TRIAL
Start training with us today, and understand how we can help you build strength, muscular endurance and mobility.
251 Southwark Bridge Road,
London, SE1 6FJ